Or terrific publicist, Sari Kamin, put together a great schedule for our whirlwind Western states tour, with each day having multiple events whenever possible. First stop was Philadelphia, which is west of our home base, to do a demo at the Philadelphia Free Library-Downtown. This library is the only one in the country that is equipped with kitchens for doing cooking classes and presentations. Several libraries have inquired about including this option since cookbooks are becoming increasingly popular for libraries, as the most requested books. Rose was very moved when Suzanna Urminska commented that all of her books were checked out and many of them dog-eared from repeated visits to homes. Many first time purchasers for a book by Rose came to hear us, and the story of our book. It was also our first time to present our PowerPoint presentation.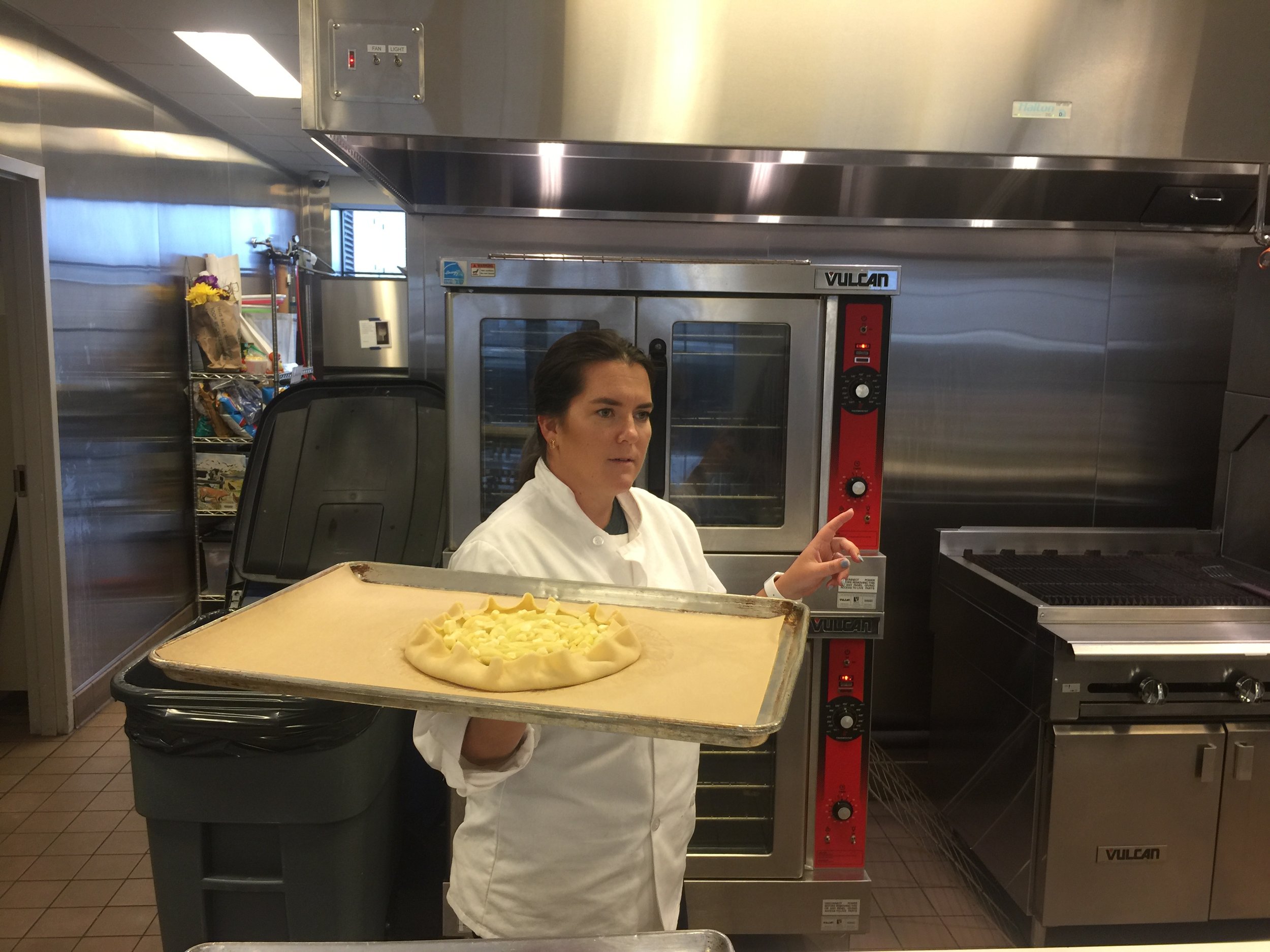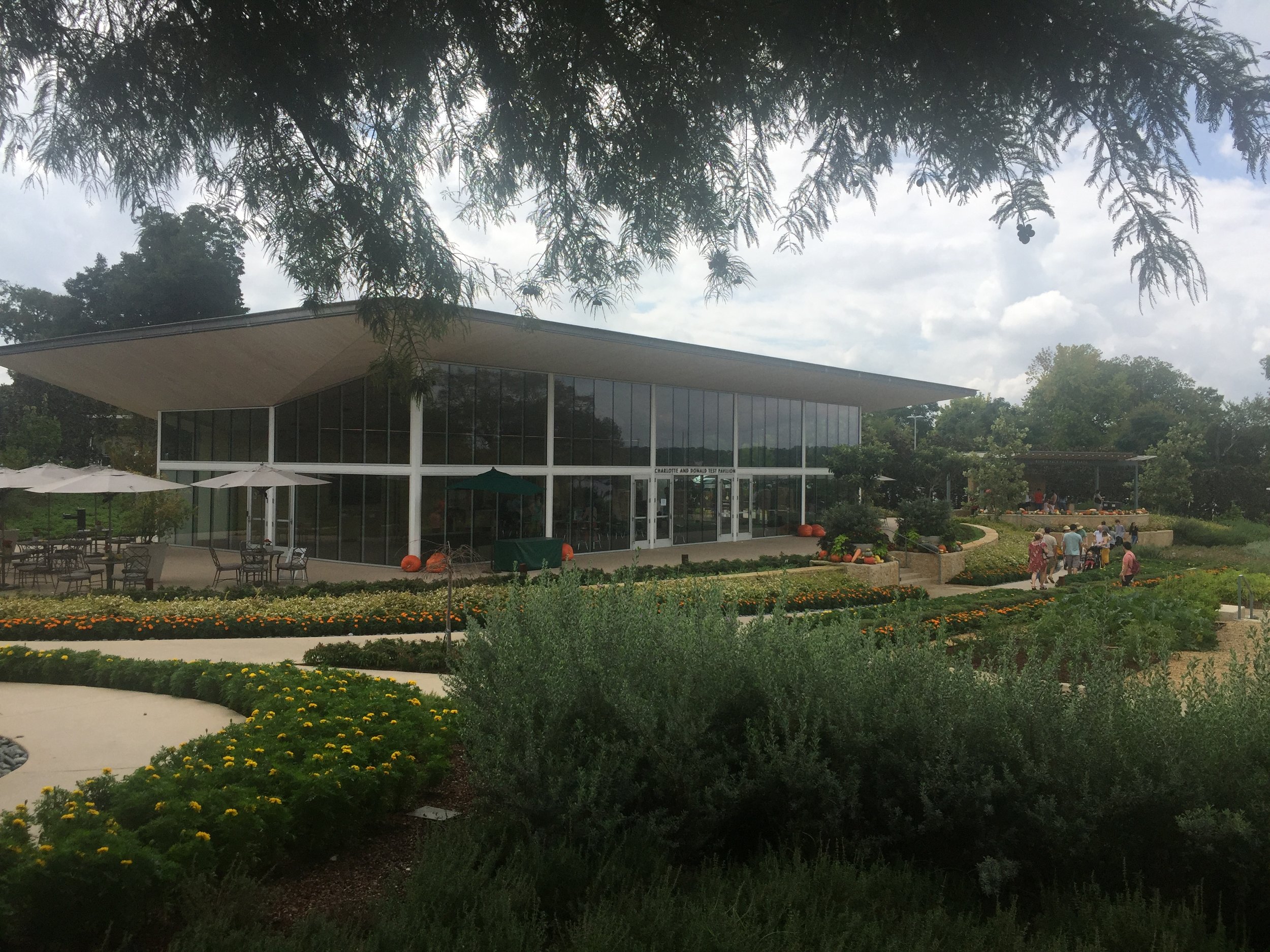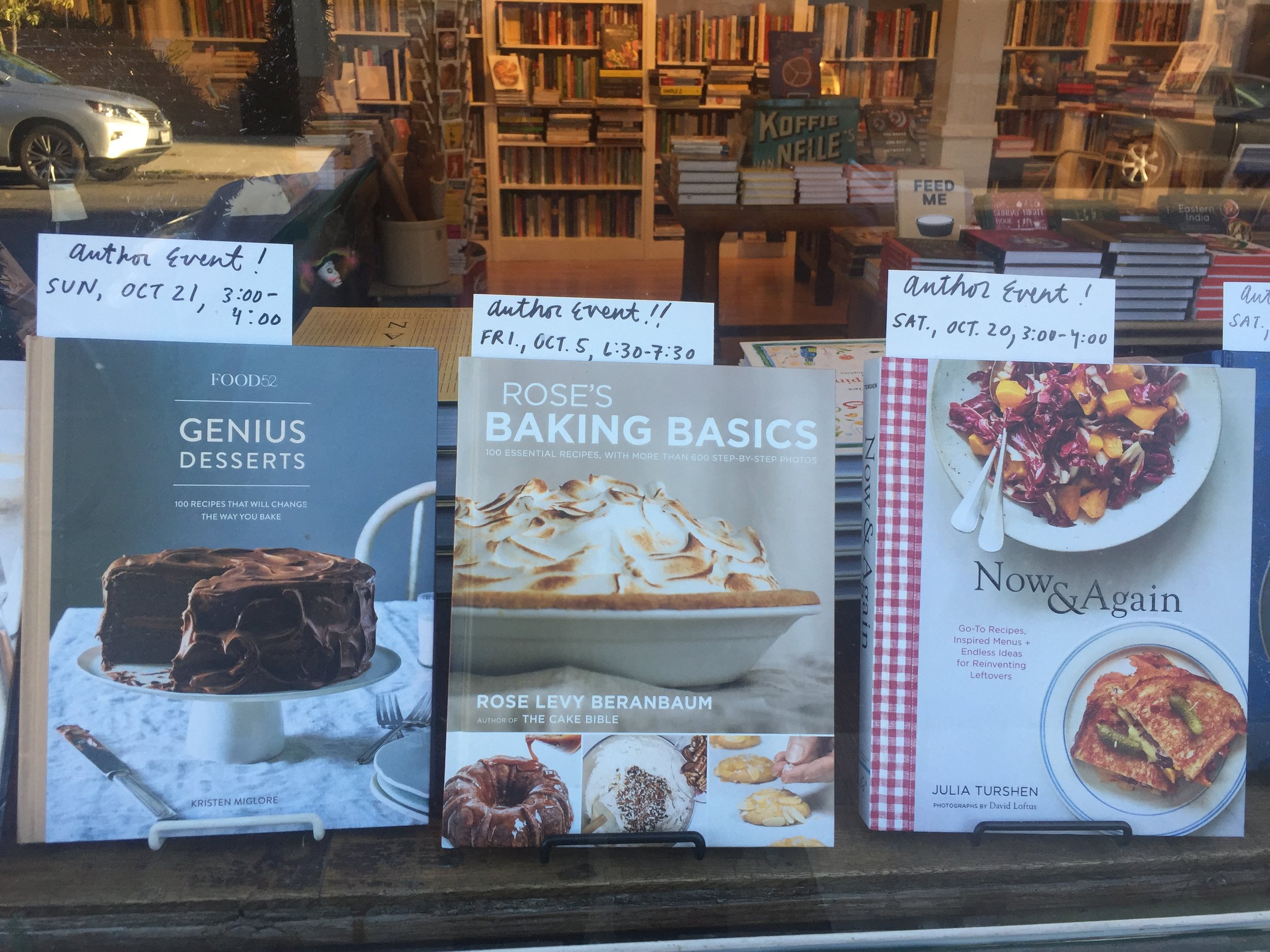 Our dear Dallas friend, Zach Townsend, who has contributed to several of our books both with a recipe and proof reading, not to mention arranging amazing events, was our escort for great Dallas dining and also arranged another unique venue for us to demo our cranberry scones at a spectacular arboretum. Two outside and a huge indoor facilities enable the arboretum to run different events at once. A familiar face was amongst the audience, Connie Akins Mullin , who had given us a tour ,on our last visit, of the now closed Dallas Pirch Housewares store. After our demo we all went for a walk surrounded 90,000 pumpkins that the arboretum had turned into a Peter Pan's Neverland theme.
In Denver, we were greeted by our friend and former recruiter for Craftsy, Denise Mickelsen, and we all enjoyed a delicious catch up early dinner before the book signing at The Tattered Cover bookstore in Aspen Grove. Our friend Jenny Hartin, of Eat Your Books, was moderator and had her friend do a live Facebook Video of the event. The highlight of our Denver trip was once again given by Rose's long-time dear friend Holly Arnold Kinney, who opened her Fort restaurant doors to host a delightful Les Dames Escoffier book party. We enjoyed a delicious buffet and the chef made our bourbon balls from the book. It was also great reuniting with other old friends and meeting new ones.
Our first stop in Seattle was the wonderful Book Larder bookstore where we were able to do our PowerPoint presentation while munching on my favorite cake in the book—Triple Lemon Bundt, prepared by the owner. The next evening we once again were invited to do a class at Tom Douglass's Hot Stove Society. Tom generously commented that his wife prefers to bake out of our books versus his, and the class preferred our Rosa's pizza to his pizza shop's pizza (I'm sure they were being polite!). Bridgett and staff did a great job juggling and presenting our triple recipe presentation: Beer Bread, Cranberry Scones, and Triple Lemon Bundt cake with samples for all to enjoy along with the pizza challenge.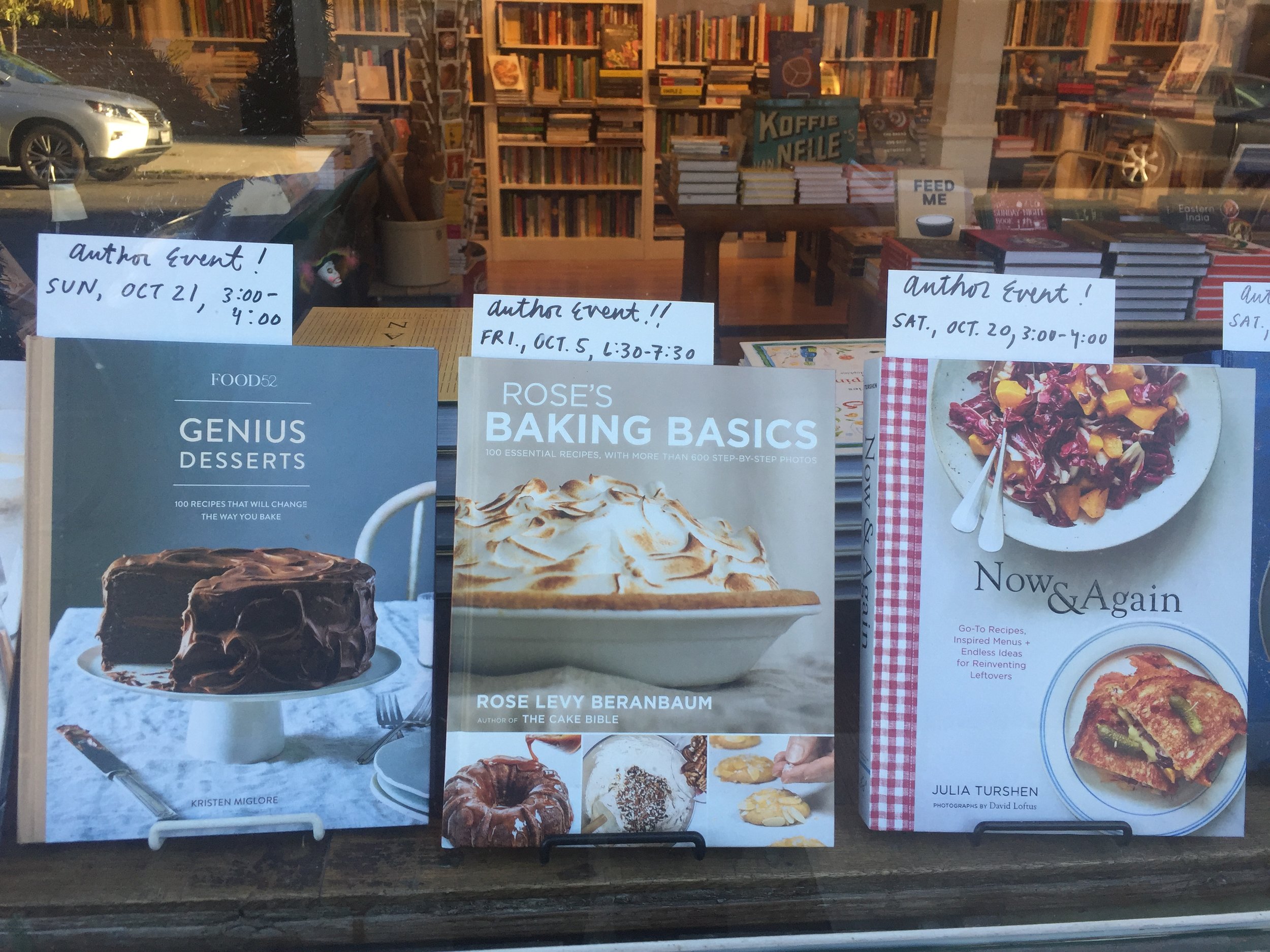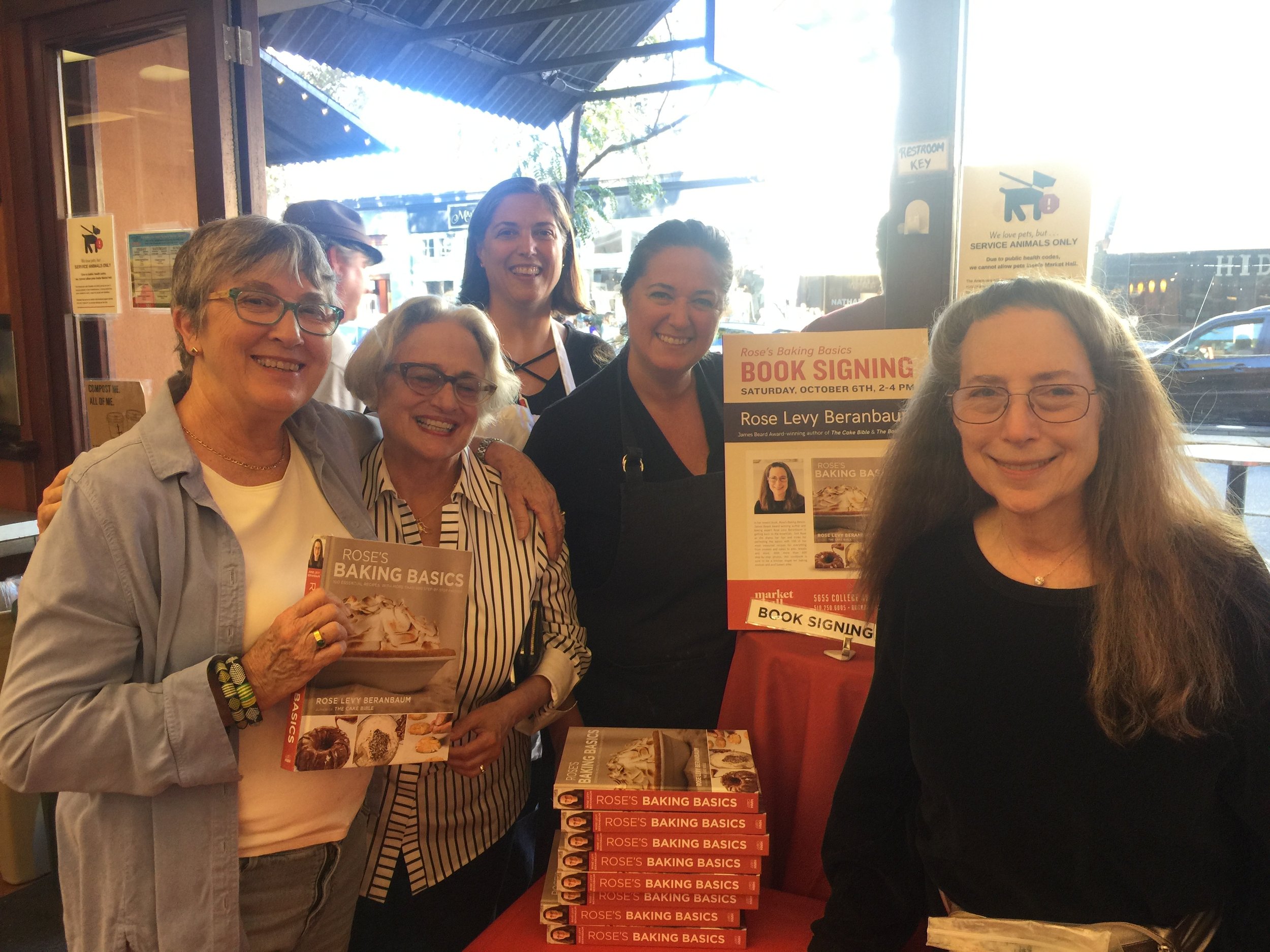 Then on to San Francisco to the legendary Omnivore Books. Celia Sack has hosted book signings for many of our books and has become a treasured friend.
It was a joy as always to get to see Rose's brother Michael, wife Mia, and son Alex, and we had a great dinner at Rich's Table.
The next day was at the grand Market Hall, our first ever book signing in a supermarket. Our signing table was stationed in the store's bakery and coffee shop section. Christine Falconer and her staff had samples of the Triple Lemon Bundt cake and Whoopie Pies at a nearby tasting table, with both packaged for shoppers to purchase! (It was Whoopie Pies for dinner at the airport.)
After the signing we ran into a very unexpected delight—dear friend, chef and restaurateur Daniel Patterson shopping with his two kids. Turned out it was actually his round number birthday!
Then off to Portland for two days until returning to San Francisco.
Stay tuned for our Western states tour-Part 2.