Our first venue for our Eastern states was the Natirar restaurant and cooking school in Peapack, NJ. This was the first time that the school actually had an author do a demo and a book signing, which we were delighted to teach to a full house. Cranberry Scones was our presentation, along with an important point which presented itself. Rose was showing the rationale for always breaking an egg in a bowl other than the vessel it would be mixed in, when one of the Natirar's farm eggs was spoiled.
We next went to Manhattan to do a taping for the Joan Hamburg show on LIVE RADIO. Not only was it delightful to have a conversation with Joan, who is one of the best interviewers out there, it inspired our quest to suspend chocolate chips in a marble cake, which was a cake her mother had made but for which she did not have a recipe. In the evening, we did a book signing at the Rizzoli book store. Our dear colleague and friend, Miro Uskokovic, Executive Pastry Chef from Gramercy Tavern, participated in a discussion with us before the signing and tastings from the book. We also, did a surprise walk-in author's signing of our books at the nearby Whisk and at Barnes & Noble.
Cambridge Culinary, in Cambridge, MA, had arranged a terrific event for our Rose's Heavenly Cakes tour. Sean Leonard and his staff welcomed us back with the same perfect prepping for our triple demo of the Beer Bread, Triple Lemon Bundt Cake, and Cranberry Scones, along with PowerPoint presentation. We also met our prepping staff at an incredible dinner the night before at The Fat Hen. We were delighted to meet two of the editors from America's Test Kitchen who attended the demo.
Saturday evening, we had dinner with Rose's long time colleague Maria Speck at Shepards.
We then headed south to Fall River for a book signing at Portugalia Marketplace, arranged by a long time friend and colleague, Gloria Cabral, before driving to Providence, RI. Steven Shipley, head of Johnson & Wales University's Resource Development, gave us a tour of the school before we gave a demo and PowerPoint presentation, while the students munched on Cranberry Scones prepared by the head pastry chef.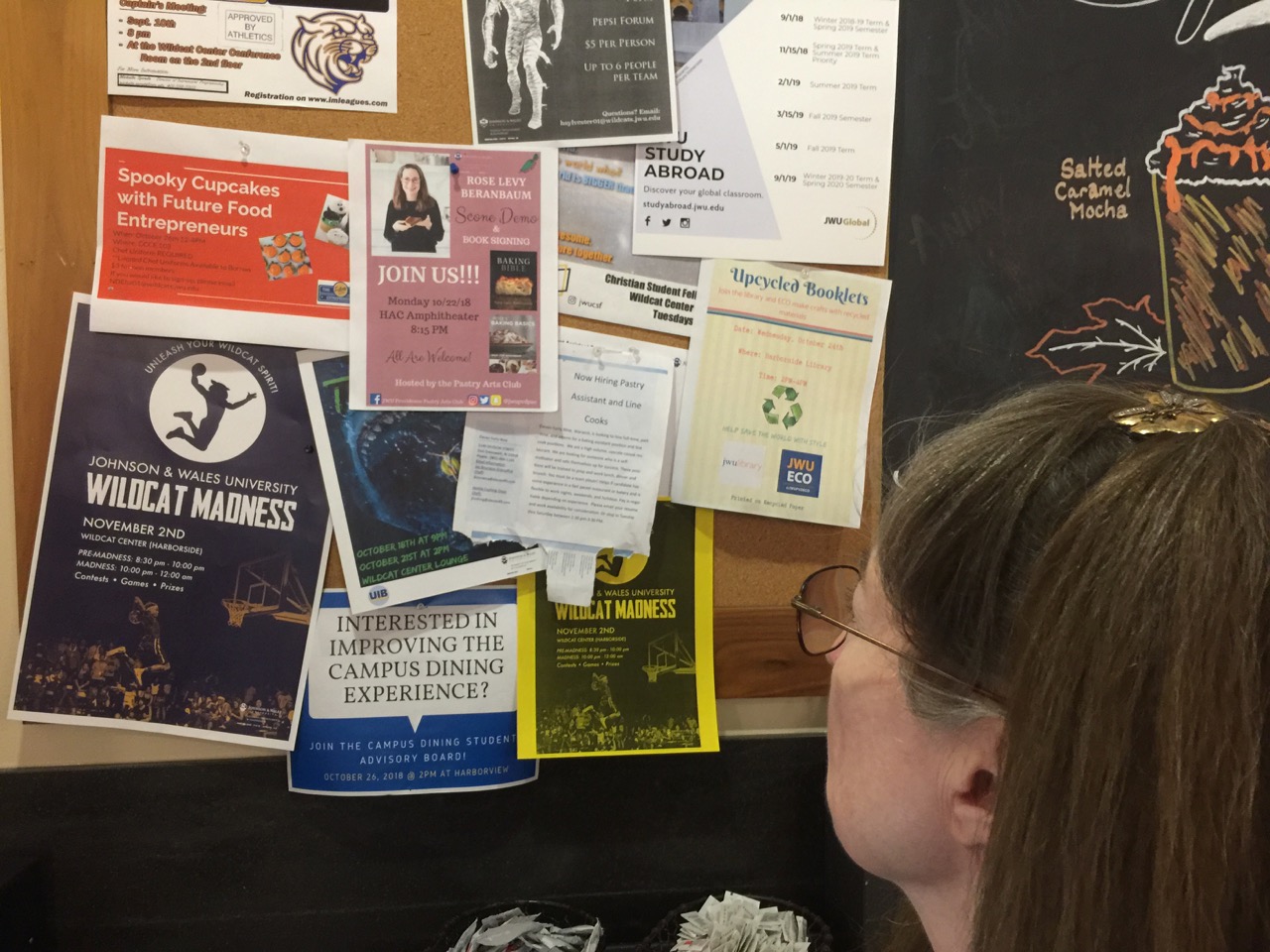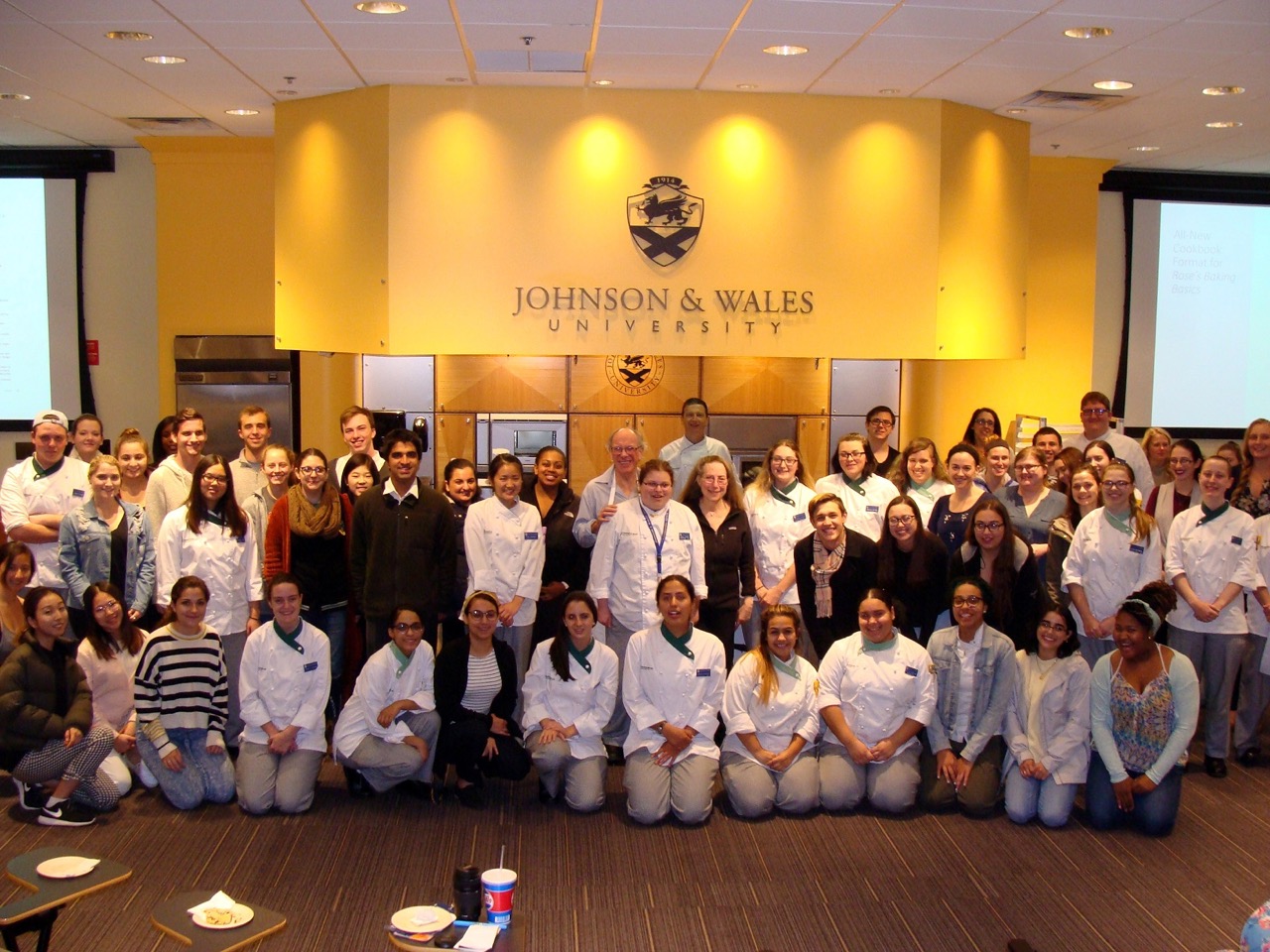 Rose is always delighted, when in New England, to stop and visit another old friend and colleague, Lee White. We met her at the very busy Sift Bakery, in Mystic, to try some of the pastries before a lovely lunch and conversation at Olio.
A couple of years ago, Chef Central was integrated into Bed, Bath, & Beyond. Jenna Leder, head of the Chef Central showroom, did a fabulous job making two Apple Galettes for the largest attendance that the store has ever had for a demo.
A day later, we were at the CIA (Culinary Institute of America-Hyde Park, NY). We attended Michael Weiss's wine class for Rose to give her thoughts on dessert wines and pairings with desserts. We enjoyed lunch in the newly renovated Apple Café. It included several splendid desserts. In the afternoon, we did a demo of the Fresh Blueberry Pie, along with baking tips, for chef Tom Vaccaro's pastry students' class. Rose was delighted that her long time friend chef John Zearfoss was able to sit in for a short time. He reported the next day that some of his students complained that they hadn't been informed of the event saying that while John is an old friend and takes our friendship for granted, they, on the other hand with birthday cakes from The Cake Bible and would have loved to meet her.